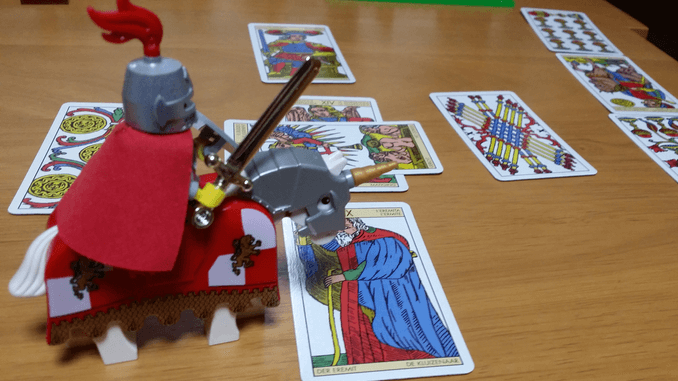 Legendorama 7: What to Do with the Captives…?
Legendorama 7: What to Do with the Captives…?
As Sir Richard returned to the camp he mulled over what to do with the two captives. They were clearly not noblemen and so it was unlikely that they could be ransomed. To kill them in cold blood or torture them for his sport was not in the nature of our chivalrous knight. To keep them prisoner would lay an additional burden on the venture and peradventure cause it to fail.
Perchance they might want to set aside their former hostility and enter into Sir Richard's service; their knowledge of the land might prove useful, but could they be trusted? Should he simply release them? Wouldn't they return to their village, or wherever they had come from, and summon a larger band of men to attack Sir Richard's party?
Perhaps he should send them back to his castle along with Squire Patrick; but to do that he would have to send a couple of men as escorts, dangerously splitting his small party in two, and leaving himself with just three men in an unknown land and the likelihood of more trouble from wherever the bandits had come from.
The thing to do would be to secure and interrogate the prisoners to see what could be ascertained about their intentions and their attitude towards the party.
The Celtic Cross Tarot Spread
First, however, let's have a look at the situation from Sir Richard's perspective once more, this time using the Celtic Cross tarot spread to ascertain his state of mind. Then let's do a spread for each of the two prisoners and see if we can come to any conclusions from what is revealed.
I used a small Marseille deck for the readings. In this situation, the positions in the Celtic Cross layout signify the following in the mind of the querant:
The underlying situation
The problem
How recent events have shaped the current situation.
The immediate future
Conscious assumptions
Unconscious influences
How you see yourself, and how that perception can influence how this situation plays out
The world around you and how it affects this situation.
Hopes and fears
Outcome
Sir Richard's State of Mind
The cards that were drawn for Sir Richard were very instructive. They were:
14 Temperance
20 Judgement
5 of Pentacles
10 of Wands
King of Swords
9 Hermit
0 Fool
8 Cups (reversed)
Knight of Pentacles (reversed)
10 Cups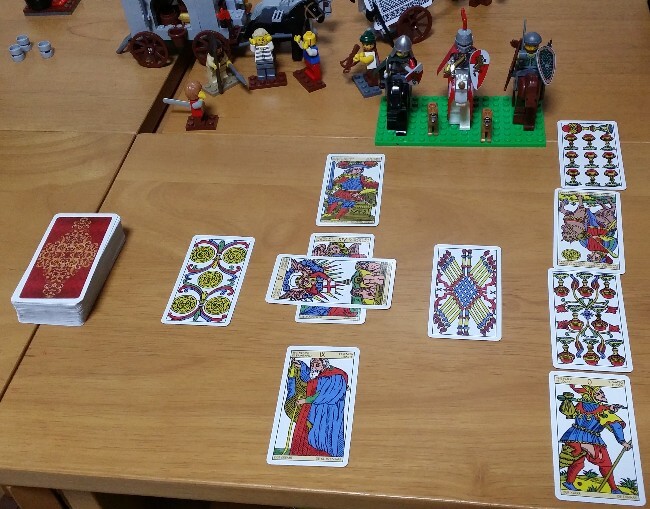 The spread for Sir Richard is very revealing! His underlying temperance is now informed by a need to judge the situation wisely; he sees the situation as having come from a place of material want, whether that is his own sense of (relative) poverty that has driven him out upon his quest, or the poverty of the bandits that drove them to confront his party. He sees the immediate future as one of his having to bear the burden of his decision and actions in relation to the bandits.
He is aware that he must deal with the situation as a "King of Swords," that is both a martial lord and a wise ruler in the tradition of David. Sir Richard's quest, it will be remembered is both an exoteric and an esoteric one, and the subconscious influence of that hermetic drive will influence his decisions in the outer world no less than the inner.
Sir Richard feels that he has been foolhardy in sallying forth on his quest and certainly risks looking like a fool if it fails. He was driven to seek new lands, and his questing spirit is seen in the 8 of Chalices as he and his party move into an unknown land, but right now they have been confronted by a reversal in spite of their victory in the skirmish. Sir Richard fears that the new situation that has brought them to a halt may keep them stuck with a distracting problem overturning his knightly plans to cultivate the land into which he is moving.
In spite of Sir Richard's fears and self-criticisms, or perhaps because of the hermetic humilty that informs them, the outcome, in which Sir Richard works with temperance and good judgement and bears his responsibilities with dignity, will be to his and everybody's satisfaction.
Tomorrow I will do a spread for each of the two captives.