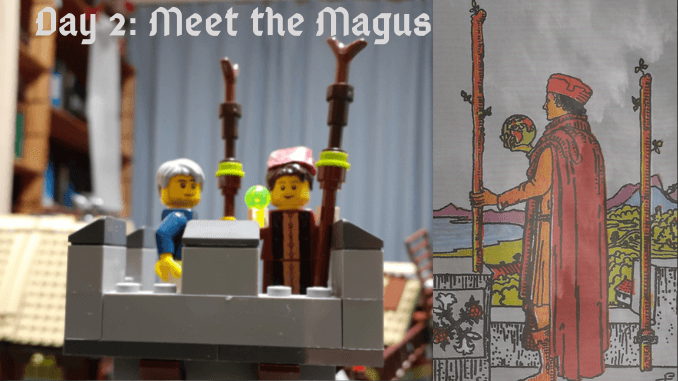 Legendorama 12: What Manner of Man is the Magus?
Legendorama 12: What Manner of Man is the Magus?
What manner of man is the Magus who was revealed to us in the arcana for day two, in the Two of Rods, and what are his circumstances? This is a question for the Marseilles Tarot deck to decide.
But first, I wanted to know a little more about his outward circumstances. I put a couple of questions to the trusty dice to find out.
First I asked whether he is alone or not.
He is not.
Then I asked how many were with him and what was their age and sex.
Five were with him, three women and two men. The women are all younger than the men, there being one maiden in her late teens, two women below the age of forty, one man in his fifties, and one in his sixties.
I next asked how many buildings were in the village they occupied, and the answer was "five" so I now have to get on and construct them.
For now, let's look at the character of the magus. He appears today in the guise of an ancient, a Dumbledore type of wizard, accompanied by his party of followers, but appears on the ramparts of the castle more in the guise of a Renaissance Magus such as Marsilio Ficino…
So now let us consult the Marseilles Tarot…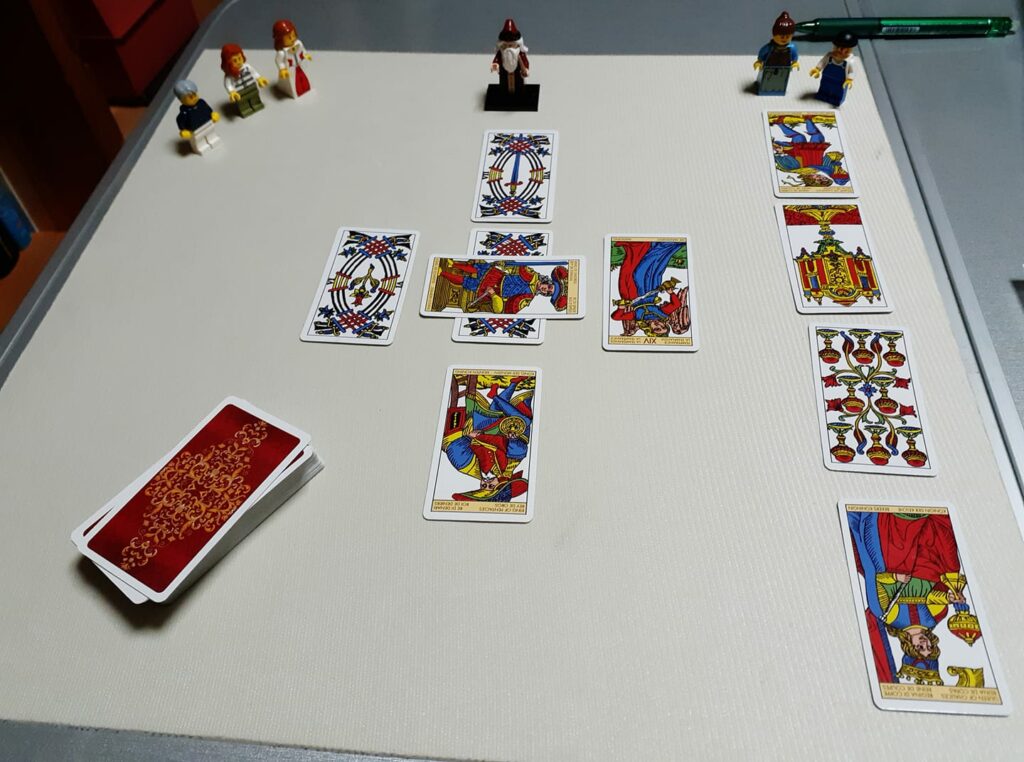 Our Magus seems to be one who has passed through the waters of strife and endured much tribulation. We do not yet know if that oppressive King of swords is a potentate of the flesh or of the spirit, a power the magus seeks to exploit or to resist. With so many reversals, may it not be that it is not I but the Magus himself who is reading the cards and that for him they are upright and auspicious?
The Layout
Yes, it is the magus who is viewing the layout. It seems that he is already displaying his alchemical powers of transformation!
The Magus = 8 of Swords
Challenged by the King of Swords
Stands upon the 7 of Swords…
Seeks the King of Pentacles
Coming from 14 Temperance
Heading towards 6 Swords
Influences through the Page of Cups
Influenced by or needs to know about the Ace of Cups
Hopes, Fears and Advice revolves around the 8 of Cups
The potential outcome lies with the Queen of Cups
Here is our Magus with his followers. He is now transformed into the handsome gentleman of the Two of Rods: