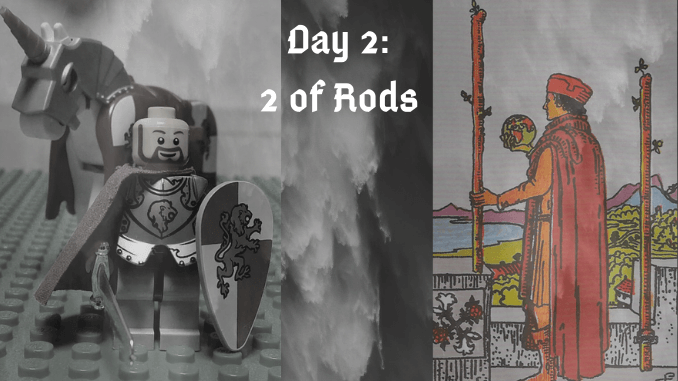 Legendorama 10: Day 2 Tarot
Legendorama 10: Day 2 Tarot
With the dawning of the second day of the quest of Sir Richard Radcliffe, one Brother Janus of the Order of the Golden Balls of Famagusta presides over the drawing of the Tarot of the Day…
Day 1: The Five of Rods
The first day of the quest was ruled over by the Five of Rods, which saw the party attacked by five bandits, three of whom perished in the affray. The two survivors surrendered and, being of the Catholic faith were invited to pledge fealty to Sir Richard. One of them did so willingly and in good faith, the other rather more grudgingly and must be watched carefully as the quest unfolds as we do not entirely trust him.
Today is April 2nd and we draw the Tarot card of the Day from a modified Rider-Waite Tarot Deck in which yesterday's Five of Rods and all but one of the Upper Arcana have been removed. The remaining Upper Arcana is the (0) Fool.
The Initiatory Quest
When the (0) Fool is drawn the lower, exoteric, quest will pause while Sir Richard undertakes the first step into the initiation of the higher, esoteric quest. Upon successfully completing that initiatory step, the next Upper Arcana card shall be added to the deck and the lower quest shall resume, and so on until Sir Richard completes the passage of the Upper Arcana and then fulfils the lower quest and returns safely home, or perishes along the way.
Day 2: The Two of Rods
Brother Janus drew the Two of Rods, a positive questing card which is thematically related to the first day in which plans were disrupted by the incursion of the five bandits.
There is now a dilemma over whether to pursue Sir Richard's plans to establish a fishery at the bend in the river, and how to deal with the two bandits who are now a part of Sir Richard's party. His intention was to send a couple of his men back to his territory to bring labourers and equipment to construct a fishing station. However, it may be that the bandits can be employed in that task and it would probably not be prudent to reduce the number of trusted men about him at this juncture. Sir Richard is also keen to use the bandits' local knowledge to discover the lie of the land.
The Lord of Dominion
However, the Two of Rods is definitely a positive omen for the second day, for this is the Lord of Dominion, Mars in Aries, which brings great force to Sir Richard's quest. When I drew the card I was not sure whether the figure in the card was Sir Richard, or a new character. It seems to me that it is a newcomer to our stage, a kind of magus who is adept at the use of the scrying glass, which is what he seems to be holding in his hand, and capable of looking into the seeds of time, or seeing distant things from the vantage point of his tower which appears to be situated somewhere beside the same river that Sir Richard has started navigating. …