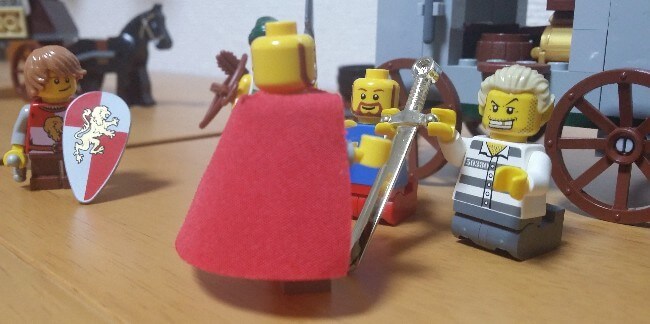 Legendorama 9: Oaths of Fealty
Legendorama 9: Oaths of Fealty
Sir Richard and his men escorted the two prisoners back to their camp where they were interrogated. It turns out, by a series of dice rolls, that they and their three fallen comrades were a group of five outlaws. They insist that there are no others in their band and that they are of the Catholic faith and willing to follow Sir Richard. They go by the names of Patrick and Maynard.
Squire Patrick was somewhat taken aback to discover that one of the brigands had the same name as him.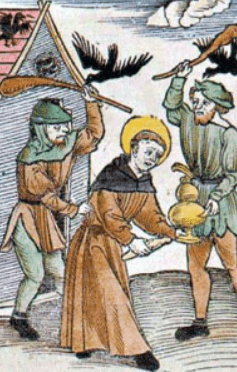 That the second of the two bandits should be called Maynard is a delicious irony as Saint Meinrad, from whom his name derives, was martyred by two bandits after showing them hospitality! Truly, the dice have a sense of humour.
Patrick was the more eager of the two to join Sir Richard's party. Maynard sullenly went along with it for lack of any better options.
The two men knelt and Sir Richard offered his sword, with the hilt upward and they placed their hands of the sword and swore fealty to him. Each then clasped his hands and Sir Richard placed his hands over theirs to signify that he was now their liege lord.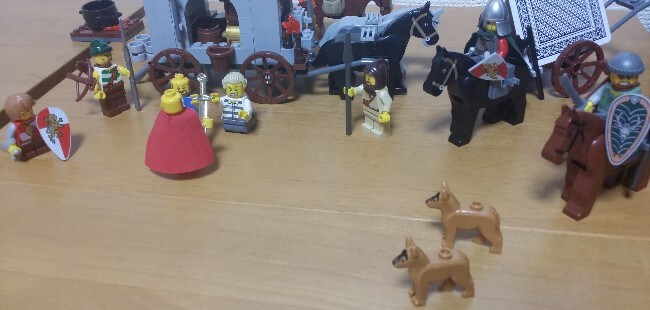 This being done, Sir Richard decided it would be best to camp where they were for the night. He told Gilbert the yeoman to take Perkin and the two men so that they might bury their dead. Perkin fetched the shovel, mounted a pack horse, and off they set. Realising that it would soon be dark, Perkin returned to the camp to fetch a flaming torch, and picked up the second shovel, which he remembered was in the back of the rear wagon.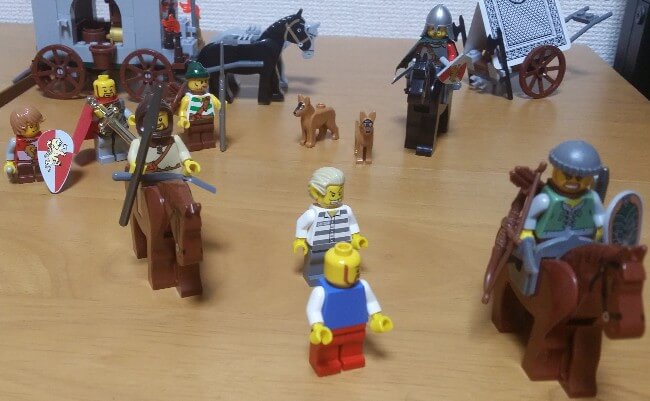 Squire Patrick and Christopher got to work setting up Sir Richard's pavillion and the other tents and then Christopher busies himself preparing dinner.
Research and Dice Rolls
I did quite a bit of online research to work out how best to deal with the prisoners who surrendered to Sir Richard's party at the end of the skirmish.
One good source is Outlaws in Medieval and Early Modern England which mentions that in the One Hundred Years War there were cases of captured men changing sides and swearing oaths of loyalty.
After using the Celtic Cross tarot spread to ascertain the state of mind of Sir Richard and each of the two captives, I then set out a series of options to find out more about them:
whether they were villagers, bandits or travelling in some capacity;
what religion they followed, and if they were not of the Catholic faith, to what degree they followed their religion;
whether they were part of a larger band of outlaws or acting alone.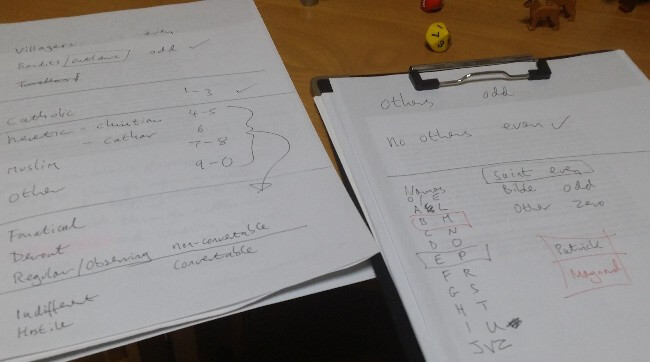 The dice rolls showed that they were a small group of outlaws, Catholic by confession, with no other men in their band. All those factors made it easier for Sir Richard to offer to take them into his service and for them to accept.
Once we knew their background, finding out their names was simply a matter of rolling a ten-sided die to see whether each man had a biblical name, a saint's name or some other name, and then dividing the alphabet into ten clusters of two or three letters to find the first letter of the name. As they were both named after saints I found a list of saints' names and rolled the die again to find the exact name for each of them. Thus we discover they are called Patrick and Maynard.