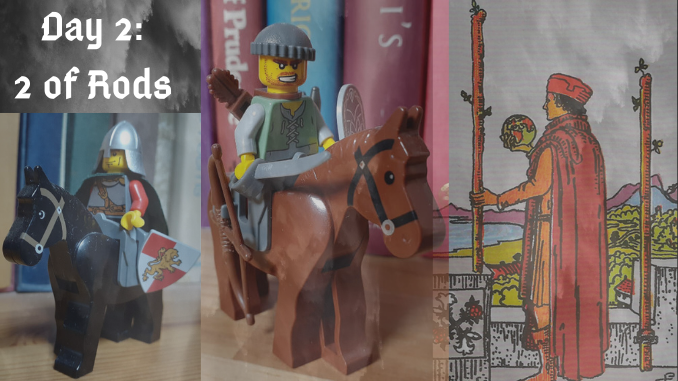 Legendorama 11: Day 2: Gilbert Finds The Magus' Village
Legendorama 11: Day 2: Gilbert Finds The Magus' Village
The three watches of the night passed without incident (no doubles came up on the throws of two ten-sided dice), and there was no change in the fine weather (6-sided dice roll = 2 = even = no change).
The Party Splits
In the morning, Sir Richard decided to press ahead with the plan. Squire Patrick will return to Sir Richard's lands to fetch workers and equipment for the fishery. The rest of the party will follow the river. Sir Richard is especially eager to explore the river as Paddy and Maynard have spoken of a wise man, perhaps an alchemst or magician, who lives somewhere further downstream, though they do not seem to know where.
So the party split into two, in the spirit of the Two of Rods, we note, with one of Sir Richard's most trusted servants retracing his steps back to Sir Richard's domains to fetch labourers and equipment for the construction of the fishery.
Gilbert rode on ahead of the main party to scout the river and to seek out the dwelling of the mysterious magus, effectively splitting the main party into two again.
Sir Richard's Party Moves Along the River
Here we see the main party, consisting of Sir Richard, Perkyn the Page, Christopher the Cook, Peter, Paddy and Maynard, and Sir Richard's hounds, Belman and Merriman, four horses and three carts, making their way along the river which, along this stretch, is hidden from view by a screen of bookish looking trees.

Gilbert Scouts Out A Village…
Gilbert followed the river for several miles, passing by a wood as the river meandered back upon itself. The day passed without incident and the sun was beginning to set, but Gilbert pressed on until in the last of the twilight he came to a village… The village of the magus…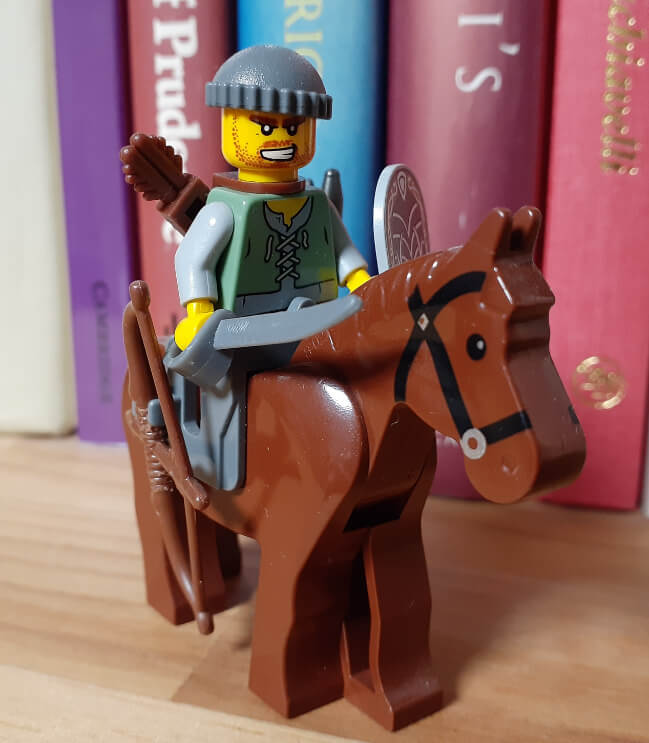 Squire Patrick Returns Home
Meanwhile, Squire Patrick trotted back to Sir Richards lands, also without incident. Here we see him as he returns home, his horse dusty with the day's journey.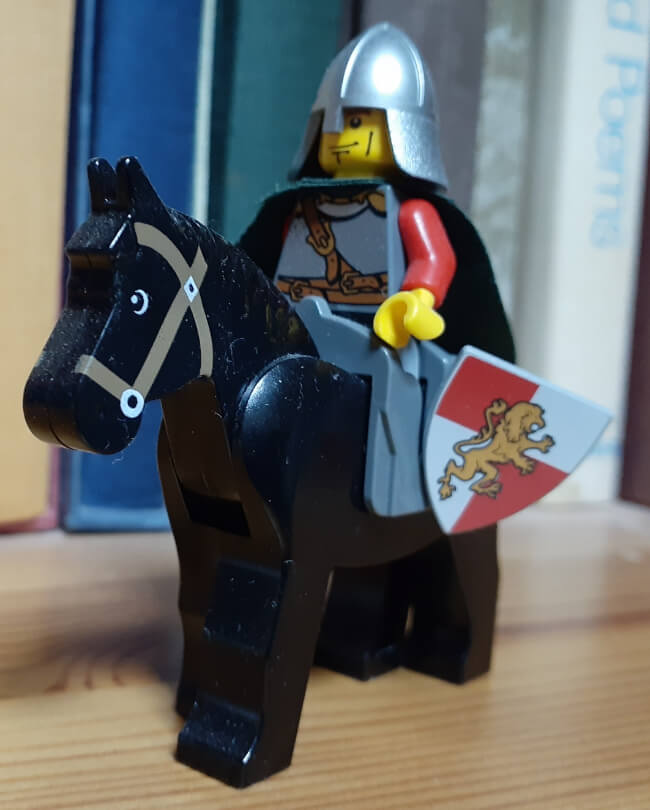 The Map On The Evening Of Day 2
And here is the situation map showing the newly discovered woodland (green marker) and the curve of the river as it seems to turn back upon itself. The village of the Magus is marked by the grey 2×2 Lego brick. The green brick marks Gilbert's arrival on the outskirts of the village. The white brick just off the edge of the map represents Squire Patrick. The other bricks one square short of the woodland show where the rest of the party were by the evening of the second day.